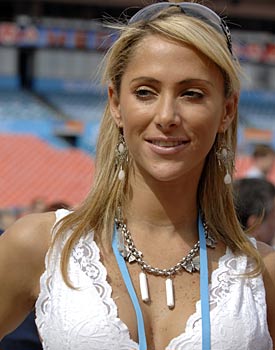 Posted by Josh Katzowitz
In a story that just will … not … go … away, Chicago LB
Lance Briggs
said what probably many, many NFL players believe (including
Redskins
RB
Clinton Portis
): women should not be allowed in an NFL locker room.
I know you know this already, but this story started with Ines Sainz and a debate has sprung up across the football nation about whether female reporters – or any reporters at all – should be allowed in the locker room.
Portis weighed in,
only to have to issue a statement of apology a few hours later.
Now, we've got Briggs, who told
NBC Chicago:
"I don't think women should be in the locker room. The locker room is the place where us guys, us football players, we dress, we shower, we're naked, we're walking around and we're bombarded by media. A lot of times I'm asking the media to wait until I'm dressed."
Most reporters who have jumped into the fray – including quite a few women (including well-done posts by Lindsay Jones of the
Denver Post
and Ashley Fox of the
Philadelphia Inquirer
– and the vast majority have defended why the media have the right to be in the locker room. One exception is
CBSSports.com's own Gregg Doyel,
who wrote all media should be kicked out of the locker room.
As Doyel predicted, the media will disagree. Including me.
As somebody who's been in hundreds of locker rooms and clubhouses, there is absolutely nothing sexual about the experience, and if you asked every reporter you'd meet, 99 percent of us would say that we'd rather interview athletes who are wearing clothes. I'm not going to lie and say I've never seen an athlete flirt with a female reporter, because I have. And I'm not going to lie and say I've never seen a female reporter who dresses inappropriately (I think she was a college intern, and she immediately got a stern scolding from her sports anchor boss), because I have.
But I think most athletes realize we're there to work, and though most of them probably would prefer us not to be there (although for certain times during the day, the locker room/clubhouse is
our workplace
as well), they understand and respect it. I don't think fans understand it or respect it, so many of them likely will agree with Doyel.
One last thing I'll say about Sainz. Obviously, I wasn't in New York when she allegedly was harassed by some of the
Jets
players and I'm unfamiliar with her locker room demeanor and her work in general (except her behavior at Super Bowl media days that wasn't real reporter-ly), but if you look at pictures of her where she's got credentials wrapped around her neck, it's tough to argue that she doesn't dress suggestively. She certainly doesn't deserve the harassment, but you have to wonder if what she wears casts a poor light on other female reporters who don't dress like that and display nothing but a professional attitude.
I think it probably does.
For more NFL news, rumors and analysis, follow @cbssportsnfl on Twitter and subscribe to our RSS Feed .