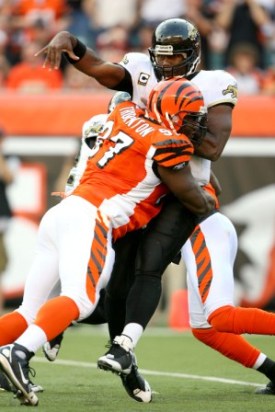 Posted by Josh Katzowitz
Former defensive tackle John Thornton is a 10-year veteran who had a solid career for the
Titans
and the
Bengals
and who started all but four of the 92 games he played in the final seven seasons of his career.
Since retiring after the 2008 season, Thornton has kept active, serving as a mentor to many of today's current players with his
Jockbiz organization
(tagline on his website: Leveraging your athletic success with a lifetime career) and turning himself into a social media maven with his blog (
All Pro Blogger)
and his
Twitter page.
We talked to him about the (retired) players' perspective on the labor dispute and why players should use the social media opportunities that are available to him. As always, he was a thoughtful interview.
1.
CBS: How do you see the labor dispute that's coming? Obviously, you're a former player and you still have some stake in what happens. But you also can see the big picture now that you're not in the league any more.
JT: I kind of look at it from afar. I'll always side with the players in the sense that I think the players have the right to get every dime they can get. The owners want to fight for every dime they're going to get. There has to be a change in the system. There are so many older players that are struggling right now. Now I'm a retired player. I understand what they go through. There has to be a way to take care of the older players. There has to be a way to not give so much to the rookies, but yet you can't just take all the money from the rookies because their careers are so short. The average career is three years but you're not vested until your fourth year. Why take the money from the rookies if you're not giving it to the veterans? They won't get that stuff done until the end. I kind of feel for the players now, because the guys are still ramped up in it. They don't see the big picture.
2.
When you were a veteran with the Bengals,
Carson Palmer
came in as a rookie with his huge contract. You had a big contract in your career too, but as a veteran, how tough is it to see a rookie who hasn't done anything make so much money?
"You have to understand the system. The better you play in college, the better prospect you are. But you have the opportunity to play well, and you have the opportunity to make a lot of money. You can talk about (former Bengals center) Richie Brahm. You're telling me he's not as good as (
Browns
guard)
Eric Steinbach
? Eric Steinbach got a $49 million contract. Richie never made more than $1.5 million in season. He got caught up in the system. Look at a guy like (Bengals guard)
Bobbie Williams
. He's one of the top guards in the league, but he can't get paid like one. As a veteran, you have to understand your position. I never got mad about that.
You have to understand, that's how it is right now. There are a lot of great players that missed out in the money. In the end, you just have to worry about your own lifestyle. Money makes a big difference, but in the end, it's the money you save as a player. It's not about the money you make; it's about the money you save. But when a player is playing, his ears are closed to a lot of those things.
It's just shut up and play. Even last (week) with the whole unified players thing, people hate that. They see football players and they just want them to put their helmet on and play. (The football establishment) doesn't want you to be this intellectual guy. Then, they'll think you don't want to play long. They'll think that if you're smart and you're always wondering about the future, you're not going to be worried about now and about the team. It's a fine line you have to stand on.
CBS: Were you ever penalized for being a "smart" football player.
JT: I didn't, because I never slighted football. That was the thing that drove me. That took care of my family. I never missed an offseason workout. I always did what the coaches wanted me to do.

3.
So, tell me about what you've been up to off the field. I know you're big on the social media scene, but you also have JockBiz. Tell me about that.
You see a guy like (Bengals director of player relations) Eric Ball, and Eric does a great job with the team. But players aren't always going to go to Eric Ball (with problems), because he's the guy on the team. When you see an authority figure, you don't always go to him with your issues. I'm more of that personal guy. It's also about getting out there in the community, learning to talk other people's language that don't play football. I met a lot of people doing charity stuff. I met people who were more successful than me and made more money than me, and you may get more (traction) in the business world. You learn to get out there in the public and you learn to get out of the locker room. I always did that when I was playing because I wanted to do it. Yet it opened up doors. We have unique connections where we can give players a lot of information just by being mentors in the game.
The community service is a part of it, but it's more about being the mentor. Guys have issues with a coach, they can come to us. With my partner, Charles Fisher, if
Darrelle Revis
is having a problem, Revis will call him at 3 a.m. He won't call his agent. Players need those kinds of people in their lives. We feel like that might hold you from doing something silly in the streets."
4.
CBS: You've become a force on Twitter and with your blog. Why is that so important to you?
JT: I started blogging back in 2004, and I was probably the first player to host a fan site. Bengalscentral.com was mine, and it was the first player-run site for fans. I would answer questions and interview players. I saw that as a unique way to connect with fans. I always enjoyed the Internet. That's what I do most of my day. You can be on Twitter. That's a way to put yourself out there, but still be guarded. You can control the information that's out there about you. You can get people to know you through your eyes. But you have to take it for what it is. You have some people who have a million followers, and they don't say anything. But there is good in social media. I just don't think a lot of players know how to use it.
5.
CBS: I'll get you out on this one. I have a different perspective than you might, but it seems that some players want to use Twitter and social media so they can bypass the traditional media. Think about it. I'm interviewing you right now, but I can edit it any way that I want. I can make you look good or look bad. Is that a concern for players?
JT: With some guys, it is. I've seen situations where you may have an interview, and it comes out totally different than you intended it or the interviewer asked it in a different tone. With
Chad Ochocinco
, it's like, once you start to get on Twitter, I'm cutting the middle man out. I'll show people what I'm about. Now, he's not misunderstood anymore. It's a way to clean stuff up. Now, it's forced the media to change things. You still have traditional media, and that's where you're going to get your news. If there's an earthquake, I'm turning on CNN. I'm not going to Twitter for my news.
For more NFL news, rumors and analysis, follow @cbssportsnfl on Twitter and subscribe to our RSS Feed .