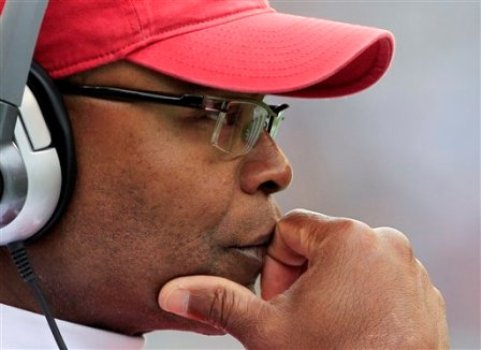 Posted by Josh Katzowitz
The first game, if your favorite team has a bad day at the office, you can forgive it. "Ah, it's just one game," you might say. "My men have plenty of time, and it
was
the first game of the season. Obviously, they haven't worked out all the kinks." You can still sleep at night.
The second game, if your team stinks up the joint again, you can forgive it. With reservations. "OK, it's only two games. The season is still long. You can still make the playoffs if you start it out 0-2. They're still figuring things out." You still sleep at night, though probably not as soundly.
By the third game, though, if your team is still playing really, really poorly, you might have a tough time catching those Z's. By game three, problem teams – and problem players – are becoming more "the trend" and less "just a phase." Your team might really suck, after all. Your favorite player might officially be over the hill.
You might officially have a problem.

10. Carson Palmer:
I've watched Palmer closely the past five or six years, and after the
Jets
beat Cincinnati in the playoffs last year, I wrote Palmer
was no longer an elite quarterback
(you can't be elite, after all, if your stats fall somewhere between
Jason Campbell
and
David Garrard
). He's continued his struggles this year, and though, the
Bengals
don't need him quite as much if they have a healthy
Cedric Benson
, you can close the book on him as one of the best in the game.
9. Shawne Merriman's Achilles/Andre Johnson's ankle:
Let's combine two annoying injuries for players who would do well to stay on the field. Merriman, who missed much of the preseason because of a holdout/Achilles injury, played the last two weeks, but he had to leave Sunday's contest because of a calf injury. Though he's not the player he once was, he's a better option for San Diego than
Antwan Applewhite
and
Brandon Lang
. And Johnson's ankle is self-explanatory. If he's not on the field – and he's had to miss part of the past two games – the
Texans
offense isn't nearly as potent.
8. David Garrard:
I know, I hate putting two QBs on here in the first three picks, but, unlike Palmer, I'm not sure why Garrard is still playing with the first string. I mean, aside from
Todd Bouman
(hasn't thrown a pass in five seasons) being his only backup. Coach Jack Del Rio was asked how much longer he could play Garrard, and Del Rio said as long as he was the team's best option. Meaning he's the team's only option. Which is bad news.

7. Ben Roethlisberger's return:
This isn't about Roethlisberger necessarily and I assume coach Mike Tomlin will give him back his job when he returns from his four-game suspension, but the
Steelers
could be 4-0 playing a combination of
Dennis Dixon
and
Charlie Batch
. Roethlisberger obviously is a better QB than either of those two, but he'll probably be rusty. What if he struggles against the
Browns
in his first game? What if Miami's defense lights him up the week after that? Will Steelers fans be chanting Charlie Batch's name (probably not, but you never know …)?

6. Brandyn Dombrowski:
So, how soon can Marcus McNeill return for San Diego? Dombrowski, playing LT and trying to protect
Philip Rivers
' blindside, had a tough time against Seattle on Sunday,
Chris Clemons
toasted him a few times to sack Rivers, and on the
Chargers
' first attempt to get within two late in the game – the first time Rivers hit TE
Antonio Gates
– Dombrowski was called for holding. San Diego coach Norv Turner has defended him, but Dombrowski had a rough one in the Chargers loss.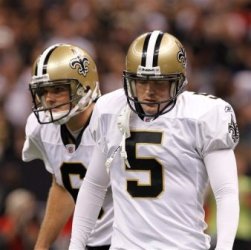 5. Garrett Hartley:
It's hard to believe how badly Hartley missed his game-winning 29-yard field goal in overtime of the
Falcons
victory against the
Saints
. Coach Sean Payton has shown plenty of loyalty to Hartley, but Hartley directly cost New Orleans the game Sunday. How many more games will he negatively impact the Saints before he's off the team? Maybe, none. John Carney and Matt Stover apparently have tried out for the Saints this week, and at this point, if Hartley lasts the year in New Orleans, it'd be kind of a surprise.
4. The entire AFC/NFC West:
We'll get into San Francisco's Mike Singletary in a minute, but man, how inconsistent have these conferences been? Oakland has been terrible (against Tennessee), less terrible (a win against St. Louis), and almost not terrible enough to win again (a 24-23 loss to Arizona).
Derek Anderson
has worked his anti-magic for the
Cardinals
. And you still don't know what you're going to get when Seattle runs onto the field for the game. I'm still shocked St. Louis beat Washington. These divisions are wide open for the taking, especially when Kansas City starts 3-0 and leads the AFC West.

3. Chargers kick return coverage:
OK, so you saw what
Leon Washington
did against San Diego on Sunday, returning a kick for 101 yards for the TD and then returning another kick for 99 yards. That was unreal. But don't forget about Kansas City's
Dexter McCluster
, who had a 94-yard punt return in the season opener vs. San Diego. On Monday, several Chargers veterans volunteered for special teams duties in order to help improve that unit. Hey, it certainly couldn't hurt.

2. Giants discipline:
Remember how
Antrel Rolle
complained about how much control the coaching staff held over the players? Well, that's not exactly true, especially when we're talking about New York's 11 penalties, including five personal fouls that occurred after the play was over, in its bad loss to Tennessee. Two 15-yarders came courtesy of RT
Kareem McKenzie
(behavior McKenzie called "despicable" the next day), and Rolle incurred one when he tried to punch Tennessee TE
Craig Stevens
. With performances like that, you have to wonder what kind of control coach Tom Coughlin actually asserts over his players. And how much longer he'll be in control of the Giants at all.

1. Mike Singletary:
After the
49ers
31-10 beatdown by the
Chiefs
, word filtered out that Kansas City's defenders apparently were calling out San Francisco's play calls before the plays were actually run. Now, the 49ers are 0-3, and maybe, aside from pulling down his pants to motivate his team, Singletary doesn't exactly seem like an X's and O's guy. He actually was asked after the game if he had been outcoached, and he said, "I would not say 'outcoached.' When you have a loss like this, a lot of things look wrong." Like the offense. And a day after backing his offensive coordinator Jimmy Raye and saying he'd be around the rest of the season, Singletary fired him. That means new offensive coordinator
Mike Johnson
continues the streak of
Alex Smith
never playing for the same coordinator in back-to-back seasons. I'm sure that will help.
For more NFL news, rumors and analysis, follow @cbssportsnfl on Twitter and subscribe to our RSS Feed .