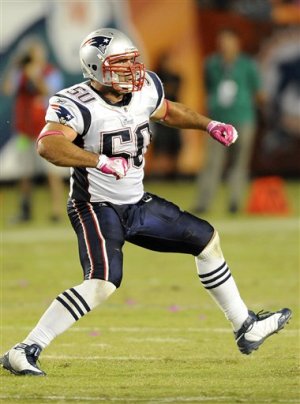 Posted by Josh Katzowitz
New England linebacker
Rob Ninkovich
had his breakout game last Monday in Miami. Before the
Patriots
special teams took over the game, Ninkovich was a dominant force in the middle of the field. He intercepted
Dolphins
quarterback
Chad Henne
twice – the first two picks of Ninkovich's career – and he finished the Patriots win with four tackles and a sack.
After a two-year career at Purdue, the
Saints
drafted him in the fifth round in 2006. He played only three games before suffering a knee injury. The next season after hurting his other knee, the Saints waived him. He soon caught on with the Dolphins. Despite playing a few games, he was soon released and signed to Miami's practice squad. Then, the Saints re-signed him but soon re-released him.
Eventually, he caught on with New England, and in Week 2 of the 2010 season, he started his first game. But if you hadn't heard of him before last Monday, don't worry. More than likely, most other NFL fans you know hadn't heard of him either.
Previous Five Questions (or more) With …
Oct. 1:
Kent Babb of the
KC Star
Sept. 24:
Texans
WR
Kevin Walter
Sept. 17:
former
Bengals
,
Titans
DT John Thornton
Sept. 11:
Seahawks
RB
Leon Washington
1. CBSSports.com:
Obviously, it's been pretty quiet in New England the past few days. But even with the
Randy Moss
stuff going on, you guys also have a bye this week. I assume you wouldn't want the bye so early in the year, but what are your thoughts about having it in Week 5?
Rob Ninkovich:
Obviously, it's a long season. Anytime you can get a bye week maybe halfway through the year, that can help you a little bit. But it's just the way it is. You have to deal with it. Get through the first four weeks and do the best you can in the first four games, get a break and finish strong. It's just one of those things where some guys have it early and some later. You just have to deal with it.
2. CBS:
The team is 3-1 and tied for first in the division, but I think many people are saying the
Jets
are the team to beat in the AFC East. Still, are you guys happy with where you are, considering where you stand in the division right now?
Ninkovich:
You really can't be happy. In this league, every team is so good, and you just have to get through each week. You have to win and keep winning. We're just focusing on the next week, which is a big game for us. The last time we played Baltimore, it wasn't the best. With us having this bye week, it gives us extra time to prepare for the
Ravens
. Every week, we're focusing on whoever is in front of us.
CBS:
I wonder this. Because everybody seems to be on the same page in New England with what you guys say to the media and just the attitude you have being coached by Bill Belichick, what's the atmosphere like in New England for a player?
Ninkovich:
You come in and do your job. That's the number one thing. You do what's asked of you. You do everything to the best of your abilities. You don't complain. You don't say nothing. I like that. That's the kind of person I am. I'm not really a big talker. I don't need to say anything. I just go out and do what I'm supposed to do. This atmosphere is that everybody is working for one goal. That's to win the division and go far in the playoffs and get to the Super Bowl.
CBS:
Is it different than other locker rooms you've been in?
Ninkovich:
Yeah. Definitely the expectations are high. If you lose five games here, it's a bad season. With the expectations so high here, you have to be able to play at that high level. It's just one of those things where you just do your job.
3. CBS:
It'd be silly if I didn't ask you this. But so much attention has been paid to you guys the past couple days because of the Randy Moss situation. It's a bye week, so maybe you haven't been distracted by it. But with so much talk about Moss and whether he had incidents with other coaches, what's the locker room been like the past few days?
Ninkovich:
We've had a couple days off. I really didn't pay attention to it. I wasn't looking at it that much. With this business we're all involved in, it happens. You have to accept what happens. You have to accept that roster moves took place and move onto the next week. You can't worry about other people. You just worry about yourself.
4. CBS
: On a personal level, what was the Miami game like for you? It was kind of your breakout game, and after having been in the league for a few years, getting waived by a few teams, what was it like to have a game like that?

Ninkovich:
It felt great. Especially playing against a team that I had been at and had been on the practice squad and they didn't think I could play. It's always good to go out and play well against a team that didn't really want you. I'm happy I went out there and played well. That's a huge win for us as a team. All three phases were playing really well. At the end of the game, it's like a surreal thing. It didn't hit me until later that I had a pretty good game.
CBS:
I was talking to Kevin Walter of Houston a few weeks ago, and you guys have similar paths. Guys who didn't come into the league with much fanfare who have been waived by a few teams before breaking out. Walter has been really good the past few years, and I wonder how you keep fighting through what might be a negative perception about you whether you can play in the league?
Ninkovich:
It's believing in yourself and continuing to work hard and doing what you have to do to prepare. Every year for me, I go into training camp and I know I have four games so I can show these coaches I can play and do well. My first year, I had a setback with an ACL injury. I was playing defense for the Saints, and I had an ACL tear and that took me out of my rookie year. My second year, I had another injury to my other knee. Then I was in Miami with (Bill) Parcells, they wanted me to move to inside linebacker. It was not something I was a fan of, but I took it in stride. It's been a crazy world. You keep working and you keep grinding. Hard work pays off.
CBS:
Because you had been in New England last year, was it easier coming into camp this year?
Ninkovich:
Much better than last year. Last year, I came into training camp a week into training camp. I was already a week late. It wasn't the easiest thing learning the playbook. This year coming into OTAs and minicamp, it was definitely easier being able to get into the playbook. I was pretty excited and I knew it was going to be a chance for me to be a big part of the defense.
5. CBS:
Your dad was – or is – an ironworker in Chicago, right?

Ninkovich:
Yeah, he still is.
CBS:
I read somewhere where during a summer in college, you worked with him as an ironworker. Is that right?

Ninkovich:
For two weeks, I worked the night shift. Ironworkers, any type of blue-collar job, I have a lot of respect for guys who do that, and my father is in that group. He works seven days a week. He doesn't get vacation. If he wants to get a week off, he has to make sure he works a couple extra weekends so he can get the money. With me doing that in one summer, it really opened my eyes. It's not something I'd want to do for forty years or fifty years. My dad always said that it's fun while you're young, because you're making money.
But when you're 50 and it's 20 degrees below zero and you're sitting on an iron beam, it's not much fun. He said come do this for a couple weeks, and it was a good experience for me to see what my dad has been doing for the last 30 years.

CBS:
What did you do?
Ninkovich:
We were putting up a bridge. I was pretty high up there. We were in these big tall lifts. What they do is have a big beam, and they tie two ropes on the end. They have two guys on the side, and all these guys are trying to get the beam in the right spot. You have to have great communication, because it's very dangerous. It's very intense. You have a lot of stuff going on. You could lose a finger. You could fall and die. It was eye opening to me.
CBS:
Compared to that, football must seem easy.

Ninkovich:
Football is you going to college and getting your degree, and you keep going if you're good enough. I knew I didn't want to be an ironworker for the rest of my life.
For more NFL news, rumors and analysis, follow @cbssportsnfl on Twitter and subscribe to our RSS Feed .