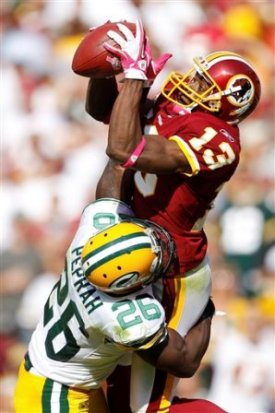 Posted by Josh Katzowitz
You probably didn't know about
Redskins
WR
Anthony Armstrong
before last Sunday when you saw him make that outstanding fourth-quarter 48-yard leaping touchdown catch to get Washington back into the game – a game the Redskins eventually would win in overtime against Green Bay.
Why would you have known about Armstrong before that very moment, anyway? He played collegiately at West Texas A&M, a school I'm sure you don't follow. In 2006, he played with the Odessa Roughnecks of the Intense Football League where he finished THIRD on his team in receptions. If anybody knows anything about the Intense Football League, please raise your hand. He moved on the next season to the Dallas Desperadoes of the Arena Football League. Then, he had stints on the practice squads of the
Dolphins
and the Redskins. He wasn't exactly a household name.
Although he's 27 years old, he's still classified as a first-year player. "The normal rookie," he says, "is 21 or 22 years old. I'm 27. It's kind of weird, but I take it and go with it." He's tied for fourth on the team with seven catches, but he's averaging an amazing 26.9 yards per reception. Plus, he has that highlight-reel touchdown catch. We spoke to him this week about his minor-league stints, his part-time job in a jewelry story and whatever the hell the Intense Football League was.
Previous Five Questions (or More):

Oct. 8:
Patriots
LB
Rob Ninkovich
Oct. 1:
Kent Babb of the
KC Star
Sept. 24:
Texans
WR
Kevin Walter
Sept. 17:
former
Bengals
,
Titans
DT John Thornton
Sept. 11:
Seahawks
RB
Leon Washington
1. CBSSports:
Before last week's game, there probably weren't very many people outside the Washington area that had heard your name before. But then you came out with that leaping TD catch that made such a big impact. Because I know you toiled for so long in the deep minor leagues, what was last week like for you?

Anthony Armstrong:
It ended up being a pretty good week (laughs). Going into that game and of course getting some extended playing time and having that big touchdown that changed the momentum, coming out of that game was huge.

CBS:
This was your breakthrough game, though. Did you ever think something like this would happen to you?
Armstrong:
I've said for years if I could just get the opportunity or get the chance to compete, I could show I had the ability to play the game. Just being able to have that type of performance, it's one of those things that just shows that I do have the ability.
2. CBS:
So, what the heck is the Intense Football League?
Armstrong:
It was just an independent brand of arena football. It only had six teams at the time, I think. It was a way for me to get back into football after I had missed a year rehabbing an injury. That was going to be a way to get some tape. I was successful down there, and I kept graduating to the next level. I kept getting promotions.
3. CBS:
I've talked to plenty of guys who have played in the AFL and AF2. In the AF2 especially, those guys are making like $50-$75 a game. What did you get paid, and how do you survive on that?
Armstrong:
It was only about a couple hundred dollars a game. It wasn't very much at all. I wasn't really in minimalist mode, but every bill I paid was the minimum possible you can pay. I kind of lived off the land almost. I couldn't do too much, because of the money.
CBS:
Did you have another job?
Armstrong:
When I was there in Odessa, I didn't have a job. When I left and went to the Dallas, I started working at a jewelry story. I would practice in the morning and I would go to the jewelry story at the mall and work from 3-9 p.m. Those were some long days.
CBS:
Were you a good salesman?

Armstrong:
I did well. My first December, I sold a four carat diamond heart solitaire to a guy. It was just something I had to do to pay my (rent and utilities).
CBS:
How do you get yourself through a day like that? You're so far away from the NFL, and you're working in a jewelry story to make ends meet. How do you keep going through all that just to play football?
Armstrong:
Football was my ultimate love. I realized I'm more happy when I'm on the field and when I'm in watching meetings and watching tape, When I was in Dallas, I knew the Desperados were connected to Jerry Jones and the
Cowboys
. I felt that was going to be a good way in. But I was also preparing to say I could play Arena Football League for the rest of my life. I didn't want to do that, but that was my plan B.
CBS:
Is there anybody else who played in the Intense Football League that made it to the NFL? I can't imagine there would be.

Armstrong:
Not off the top of my head. I think there might have been some guys who were in NFL Europe and were trying to get into the league that way.
4. CBS:
I think people are surprised with the Redskins. People were thinking they were going to win five or six games this year – maybe seven – but you guys are 3-2 and are tied for first in the NFC East. I imagine you guys thought you had better potential than most everybody else, but what do you think of where you guys stand right now?
Armstrong:
We knew what we had going through OTAs. We knew we had the ability to be good on offense and be solid on defense. We're still in a growing process. We still haven't played a full football game. We're still learning the offense and the defense together. As the season goes along, we'll be able to jell and play better down the line.

5. CBS:
I read your interview after the game last week when you mentioned on the TD catch that you drank Red Bull and it gave you wings. Then, I saw one of Red Bulls' competitors sent you some of their product.
Armstrong:
Actually, it was a shipment from Liquid Lightening. It's kind of funny. I didn't expect it. It surprised me when I pulled up to the park, and security said I had a package waiting.
CBS:
How was it?

Armstrong:
It didn't taste too bad. I might have to get some more.
CBS:
Is it strange that you now have this power where people – and companies – pay attention to what comes out of your mouth?
Armstrong:
It
is
weird. You just get to know the effects of marketing and product placement. I was a marketing major, so I understand how that works - get your product in your right hands and that's how it gets blown up.
CBS:
You also took your NFL fine for wearing your socks too high. I guess you're trying to run the entire NFL gamut in one week, huh? Touchdown catch and a fine.

Armstrong:
I guess I want to be very efficient and get it all out at once.

CBS:
But I bet if you knew a few years back when you were playing in the Intense Football League and working at jewelry store that you'd have to take a fine in the NFL after a touchdown catch, you'd be OK with it.

Armstrong:
Well, shoot. I'm not trying to throw away my money. I'm going to do my best to get that money back.
For more NFL news, rumors and analysis, follow @cbssportsnfl on Twitter and subscribe to our RSS Feed .