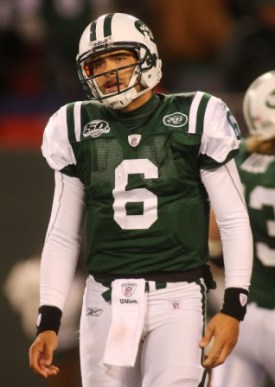 Posted by Josh Katzowitz
If
Jets
QB
Mark Sanchez
shows bad posture or displays other signs of not being happy during practice, he's now subject to a fine. And that's exactly the way he wants it.
The Jets have implemented a body language fine system for their quarterback - at Sanchez's suggestion - and if he shows signs of unhappiness, offensive coordinator Brian Schottenheimer is going to reach into his wallet and take out a few bucks. Backup QB
Mark Brunell
will be Schottenheimer's taxman, collecting all the fines.
"Today, there was a play in practice when he screwed something up," Schottenheimer told reporters, including the
Newark Star Ledger.
"He kind of looked like it was someone else's fault. That's a fine.
"It's fun stuff. He's a passionate guy that loves to play. We just stay on him about that."
For an example, take a look at the picture on the right. See the disbelieving eyes? The pouty face? The slumped shoulders? All of those are fineable offenses (at practices, not during games).
According to the
NY Daily News,
Sanchez got hit twice today but putting his palms to the sky and looking around after a couple of mistakes.
And if the Jets had implemented this system last year?
Said Schottenheimer: "He'd be broke."
For more NFL news, rumors and analysis, follow @cbssportsnfl on Twitter and subscribe to our RSS Feed .