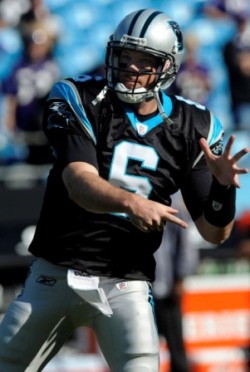 Posted by Josh Katzowitz
Last month,
Brian St. Pierre
was just minding his business at home, contemplating the end of his seven-year NFL career and taking care of his 20-month-old son. He was a stay-at home dad, and he was beginning to come to terms with that while thinking about the next step in his life.
He had played for the
Steelers
,
Ravens
and
Cardinals
, and in his career, he had only made five passing attempts. But he got a call from the
Panthers
, saying they needed a quarterback. A few days later, after
Jimmy Clausen
sustained a concussion vs. the
Buccaneers
, coach John Fox named St. Pierre the starting quarterback. Considering St. Pierre had been in town less than a week, this was, to say the least, a surprising move.
This week, we talked to St. Pierre about his career, his job as a father and how surprised he was to get the call to start the game against the Ravens (he went 13 of 28 for 173 yards, a touchdown and two interceptions in the Panthers loss) and actually played well enough to keep Carolina in the game (the Panthers cut the lead to 20-13 early in the fourth quarter before falling 37-13).
Previous Five Questions (or More):

Nov. 19:
Former coach/author Mike Gottfried
Nov. 12:
49ers
LB
Takeo Spikes
Nov. 5:
former WR, current NFL analyst Keyshawn Johnson
Oct. 29:
Chargers
LS
Mike Windt
Oct. 22:
Bengals
WR coach Mike Sheppard
Oct. 15:
Redskins
WR
Anthony Armstrong

Oct. 8:
Patriots
LB
Rob Ninkovich
Oct. 1:
Kent Babb of the
KC Star
Sept. 24:
Texans
WR
Kevin Walter
Sept. 17:
former Bengals,
Titans
DT John Thornton
Sept. 11:
Seahawks
RB
Leon Washington
1. CBSSports.com:
It must be a crazy time for you. A couple weeks ago, you were a stay-at home dad, and now you're in the NFL. Just walk me through the last couple weeks.
Brian St. Pierre:
I was at home with my wife and my son and living day to day and just loving being around him. I had played seven years in the league and I wasn't in a rush to do anything. But I got a call from Carolina, and I was thinking about whether I wanted to do it or not. It all happened quickly.
CBS:
I think the entire world was surprised when John Fox named you the starter, especially because you were so new to the team and because
Tony Pike
had been there all year. Were you surprised?

St. Pierre:
It surprised me in that Tony knew the offense. Me, I had been here two or three days. I practiced on Friday and they kind of told me to get up to speed as quick as possible for the next week, not knowing Jimmy was going to get a concussion. Once that happened, everything went quickly. I was putting in 14 hours a day. Then, I was told on Wednesday morning of that week that I was going to start.
CBS:
And you were starting against Baltimore. I mean, really? Couldn't they have started you against a team that doesn't have one of the best defenses in the league?
St. Pierre:
First of all, you're starting after a couple days of being with the team, and by the way, you're playing Baltimore. I didn't really have time to process it. I was just trying to get my head above water. I wanted just to give us a chance to win. I didn't want to embarrass myself. I obviously have confidence in myself as a player, but this offense is completely new to me.
2. CBS:
How hard is it to learn a completely new offense that quickly? If you had been on the team before and they had re-signed you, it would have been easier. But to learn a completely new playbook …?
St. Pierre:
It's really hard to equate it to anything in real life. It would be like apple meaning orange to you. Everybody runs similar type plays, but they're called completely differently and they have different terminology. It was breaking old habits and learning new habits, all in a five- or six-day span.
CBS:
How do you think the start went? I don't think anybody could have expected much from you, but you kept the team in the game.
St. Pierre:
There are always plays you wish you had back. But given the circumstances and the situation I was put in, I still felt like we could win the game because I always feel like that. I made a couple plays late in the game that hurt us with a couple interceptions, but in that situation, when we're down 10 and at third and long, you're just jamming the ball in there. Until the end, I felt like I gave us a chance to win against a really good team. I felt like I held my own. I definitely didn't feel like I embarrassed myself. I gave us a chance to win, so I can get some satisfaction in that.

3. CBS:
When you were sitting at home, did you think your career might be over?

St. Pierre:
I had played seven years. The last time I was involved was last year in the playoffs with Arizona when we played New Orleans. That was my last NFL experience until now. I had a back injury with Arizona, and they weren't sure I could hold up with my back. They didn't commit to me one way or the other. If somebody called, I knew I'd love the chance to play again. But if not, I could move on and start the next chapter of my life. But I still stayed in shape, because until you're done completely, you need to be a professional and stay in shape. When the call comes, it helps to be ready.

4. CBS:
When you weren't playing football and you were staying at home with your son, you must have felt pretty lucky. There aren't a whole lot of dads who stay at home with their kids and get to watch them grow every day.

St. Pierre:
It's been so fun for me to be around him every day and to get to experience the little things – the little changes in him and how they grow. Mothers usually get more of that than the fathers do. I grew up and didn't see my dad home that much. He's an orthopedic surgeon and he was gone all the time. If I was upset, I would always go to my mom. I love my dad, but I didn't see him as much. But with my son, I got to spend so much time with him that he would come to me as regularly as he went to his mother. It makes it all the more special. I wouldn't trade any of that time I got to spend with him.
There were days when I put him down for a nap, and I'm just sitting there thinking how did my life go from what I did to what I'm doing now. All the good parts about it you love, but I'm used to being in the middle of action and playing NFL football. Now, I'm changing diapers and putting him down for a nap and not really having much to do. What a contrast. In all honesty, I loved being around him. It's hard for me because I'm not around him at all now. I've seen him once in the past three weeks. You always want to be around him.

CBS:
But at the same time, when you're sitting at home, your career is in flux and you're pretty much unemployed.

St. Pierre:
I just kind of took it as fortunate I got to play seven years in the NFL, and financially, I'm secure for now. But at the same time, we have
Bills
to pay and we don't have money coming in. I kind of had a plan in place for what I wanted to do after football, but I thought, 'Let me get through this season. I can get working on some of the plans but I'll work out in case somebody calls and they need a quarterback.' It kind of worked out the way I thought it could.
Since I came in the league, I haven't had anything given to me. I have had to work my butt off for anything I've gotten, which wasn't much of anything. I was always on teams with really good quarterbacks. (Ben) Roethlisberger in Pittsburgh, (Kurt) Warner in Arizona and the year I was in Baltimore, we had Steve McNair. Everywhere I was, there was also a first-round pick on the depth chart, so your chances to get in a game are not happening. I fought my butt off to stay in the league and I showed my worth. But this year, I thought, 'Maybe this is the end.'

5. CBS:
But now that you've actually started a game in the NFL, would that provide a little bit of closure if you're done after this seasno?
St. Pierre:
Once I got that start the other day, it makes you want to play more. Even though we didn't win and it didn't go as great as you would hope, it was fun. It felt like I had never stopped doing it from college. When you're the guy out there, it's just a great feeling. It's why I play quarterback. Once I got that taste, you kind of want it more. If it ends, at least I got to start and prove to people I can play in this league. I know I put my best foot forward.
For more NFL news, rumors and analysis, follow @cbssportsnfl on Twitter and subscribe to our RSS Feed .