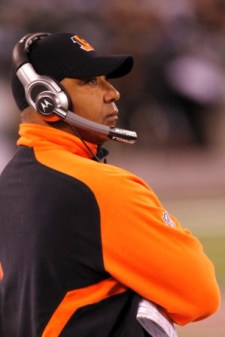 Posted by Josh Katzowitz
The
Bengals
, it seems, had a chance to make some fans happy today, to bring a little light to the disappointment they've felt all season long – and in reality, for most of the past two decades – and to give them a chance to feel good again. And maybe give them enough confidence to buy tickets for next year.
OK, that's probably not true. After another disappointing season – and a number of blackouts and empty luxury boxes toward the end of the year – it would have been a tough play to make the Bengals fan base smile.
But the chance was there. Even if owner Mike Brown wanted to keep Marvin Lewis – who owns a 60-67-1 record in his eight seasons as head coach – Brown could have soothed the sore feelings that have overrun the banks of the Ohio River.
He could have done so in three ways:
1) He could have announced he was hiring a GM and enhancing his player personnel staff.
2) He could have announced he was building an indoor practice facility.
3) He could have made sure he and his coach, at the news conference announcing Lewis' return, didn't come off so aloof and condescending.
Alas, none of that happened. Why would they? Despite the fact the Bengals have been to the playoffs only twice since Mike Brown took over as team owner in 1991, nothing ever changes in Cincinnati. Yet, the Brown family makes enormous amounts of money (we assume this, anyway) while putting a team that's gone a combined 115-204 in the past 20 seasons on the field.
Here's what really happened at the presser:
1) Brown is the GM, and he feels like he and his staff have done a good job with free agents and draft picks. Said Brown at the presser:
"The scouting thing is another criticism that rises up when we don't do well. If you look at the last 10 years, we rank 10th for the number of games played by players we drafted. I don't apologize for our scouting. It's an easy target. But if you look at the real facts, you'll see it different."
Yeah, but if those players aren't any good, that statistic makes absolutely no sense. Honestly, I'm not sure the statistic makes much sense either way.
2) All Brown said was that he was thinking about it.
Said Brown: "Marvin has a desire to have a practice facility. I have a desire, but not as keen. That doesn't mean I don't have a desire to do it. The timing is important. Right now, we're faced with major issues in the National Football League. Those are at the front of our agenda. When we get through that, then we'll have to consider this issue.
"Some of this is perception. We worked in the cold weather. We played in the cold weather. It didn't seem to hurt us any to practice in the cold weather. We played pretty well in it. But that's the way it is trending. The fact we have been left behind with what others are doing, whether that makes them better than us because they have an indoor facility is a question. But it's coming."
I understand: Paul Brown, Mike's father, was old-school. No water at practice. Practice in zero degree weather. Like segregation in football, that's not the way it's done anymore. The time has come to evolve.
Still, it's good to know Brown is somewhat
keen
about the issue (though not as much as others).
3) Lewis has a habit of treating reporters with condescension. At times, he's charming and funny. Most of the time, he's paranoid and unhelpful. Maybe the fans like that. Or maybe the fans are tired of the act.
Like when TV anchor Brad Johansen, a respected member of the media and the team's radio play-by-play announcer started off a question with something like, "Maybe I missed this, but how long is the new deal?"
And Lewis, with a snap and a smug smile said: "We didn't say that, Brad."
Later, Johansen tried again. Said Brown: "You keep asking, and the answer isn't going to change. No."
Why be snarky? Why be an ass about it?
Especially when the Bengals OFFICIAL website wrote that it was a two-year deal.
Listen, I've talked with Mike Brown off the record, and I think he's a nice man. And he's awfully loyal to his employees, for better or for worse. But for him to act like he cares whether the team wins is an insult to the fans who give him their money. Because if he cared, he would change. But he's content. So he doesn't.
I'm sure he'd rather win than lose. But above all else, he'd rather have the money than spend it on a scouting department and an indoor facility. Hey, it's his right. He's the owner of the team.
But at some point, the fans will stop buying tickets and merchandise and that money will begin to run dry.
And then, maybe just maybe we'll see how much Brown thinks the team should change. You know, if he happens to be keen on the idea.
For more NFL news, rumors and analysis, follow @cbssportsnfl on Twitter and subscribe to our RSS Feed .