Posted by Andy Benoit

It's always a treat when two star quarterbacks face off in the Super Bowl -- and it's no coincidence that it's happened each of the past three years (Peyton Manning-Drew Brees last season, Kurt Warner-Ben Roethlisberger in SB XLIII and Eli Manning-Tom Brady SB XLII).

Super Bowl XLV offers exactly what Super Bowl XLIV offered: a pair of quarterbacks operating at the height of their powers.

More than meets the eye

Because Ben Roethlisberger has spent his career playing on a team with a powerhouse defense and black-and-blue reputation, there is the misnomer that he is simply an outstanding caretaker. Because his statistical output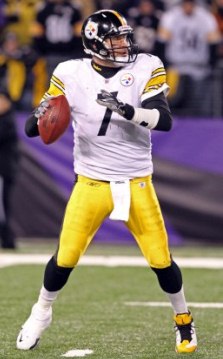 has been all over t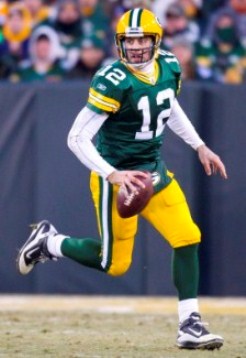 he board -- his passer rating has been as low as 75.4 one year and as high as 104.1 another -- the debate about his place in the quarterback pecking order will carry on forever.

But what can't be put into data form is how Big Ben looks on film. Michael Vick might be the most physically gifted athlete in football, but Roethlisberger is the most physically gifted quarterback. He makes plays as a pure passer that others can't even fathom. Obviously, he has the unparalleled ability to throw with defenders draping off of him. But he is also effective in and out of the pocket. And he's strong enough to throw from different platforms (i.e. when he's on the move or when his feet aren't set). And when Roethlisberger does square up and deliver a fundamentally sound pass, his ball practically whistles.

Roethlisberger and Aaron Rodgers are similar in this sense. Though not as physically imposing as the 6-foot-5 Roethlisberger, there isn't a throw Rodgers can't make. In fact, A-Rod's velocity and accuracy are a notch better than Big Ben's. And Rodgers is the more dangerous runner.

Interesting differences

More fascinating are the differences between these two quarterbacks. There's really one only (besides Big Ben's ability to make throws after contact). Before the snap, Rodgers is one of the best diagnostic artists in the game. He's constantly reading defenses and re-aligning tight ends and running backs to alter his protections. Or he's tacitly readjusting his receivers' routes (hence the quick slants and smoke screens that have become the hallmark of Green Bay's offense).

Because of his presnap diagnostic skills, Rodgers' decisions are often made before the snap.

Roethlisberger, on the other hand, makes the majority of his decisions after the snap. He's not the most shrewd reader of defenses, but he compensates with improvisational instincts that are second to none. Roethlisberger is one of the few players in the league who understands defenses better once the ball is in play. Most quarterbacks can't afford to begin a play behind the eight ball like this. But most quarterbacks don't have the strength and temerity to constantly work out of a muddied pocket, or an almost otherworldly ability to manipulate defenders with multiple pump fakes.

On the surface, it might sound like Rodgers' is the superior style. After all, he's smart before the snap and can always tap into his own outstanding improvisational skills when need be. But imagine if you're a defensive coordinator trying to game plan against Roethlisberger. How do you scheme when the opposing quarterback does not follow traditional progressions and methods? You can't bait him into bad decisions because he does not rely on making good decisions. And there are often no patterns to his decisions. Roethlisberger can be so unsound fundamentally that he's impossible to trick.

Bottom Line

At the end of the day, both quarterbacks are a nightmare to face. If you blitz Rodgers, he burns you with the quick strike. If you blitz Roethlisberger, there's no guarantee that you'll bring him down. If you drop back and play coverage against Rodgers, he'll calmly shuffle through his progressions. If you drop back against Roethlisberger, he'll buy time and make one of those sandlot plays that have killed so many defenses.

These are the issues you deal with when going up against these two. And these are the attributes that ultimately landed the Packers and Steelers in Super Bowl XLV.

For more NFL news, rumors and analysis, follow @cbssportsnfl on Twitter and subscribe to our RSS Feed.