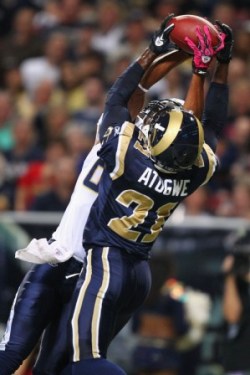 Posted by Josh Katzowitz
If former
Rams
S
Oshiomogho Atogwe
is a little frustrated – make that, very frustrated – it'd be hard to blame him. Atogwe is more than solid (in fact, he's probably one of the better safeties in the NFC), but, as Will pointed out the other day,
St. Louis released him
rather than pay him the $8 million roster bonus they would have owed to him Monday.
Makes sense for the Rams, I suppose, especially with the unknown labor situation. But Atogwe spoke with the
St. Louis Post Dispatch
and said it wouldn't be a shock if he returned to the Rams once again. Actually, he'd probably welcome another chance with St. Louis.
"My agent and myself have established a really good negotiating relationship with them, so were we to do something again (with the Rams), I don't believe it'd be a difficult task," Atogwe told the paper. "Because there's no bad blood there. We should be able to get something done."
Atogwe is coming off another solid year (73 tackles, three interceptions, nine passes defended), but he's a little upset that, after six years in the league, he still can't find a long-term deal.
Witness: he was franchise-tagged following the 2008 season, and then, because of the crazy labor scenario and the uncapped year, he reverted back to being a restricted free agent for 2010. Obviously he makes pretty good money (his base salary for 2010 was $2.1 million, and he was due to make $3.5 million in 2011, plus the rather large roster bonus), but for a man of his talent and production, he's underpaid.
Yet, he was named the team's defensive captain for 2010 (as voted on by his teammates), and it sounds like he'd like to return to the Rams. Unless, I suppose, he gets much more money from somebody else. Which, assuming because he hasn't had much luck signing that elusive long-term deal, means he probably won't.
"I think that's why it's very important for us to really get a CBA done, in place and secure, so that other guys won't have to go through a similar situation as myself," Atogwe said. "And that the teams can really move on in paying their
Bills
and grow for the long term. But for me it's definitely frustrating. I'm thankful that I still have peace throughout this, knowing that it's going to work out the way it's supposed to."
For more NFL news, rumors and analysis, follow @cbssportsnfl on Twitter and subscribe to our RSS Feed .